Books for children aged 11+
Listening to my body – Big emotions can be overwhelming! Help your child build on their capacity to engage more mindfully, self-regulate, and develop emotional resilience. Listening to my Body is an engaging and interactive book that guides children through the practice of naming their feelings and the physical sensations that accompany them.
From wiggly and squirmy to rested and still, Listening to My Body helps children develop a sensations vocabulary so that they can express what they are experiencing. Includes kid-friendly mindfulness activities woven throughout the book to reinforce the teachings. Listening to My Body is a wonderful social-emotional tool for parents, counsellors and teachers! FREE resources to accompany this book can be found at http://bit.ly/gabigarciabooks. Age 8-12
---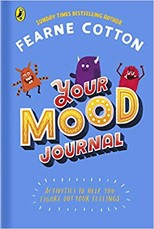 Your mood journal – Have you ever felt…Sad… Happy… Angry… Lonely… Worried… Scared… Excited? Or several of these moods all at once?
Emotions might seem big and complex – but the more we understand them, the better we can become at managing them.
Say hello to all of these moods in YOUR MOOD JOURNAL, a customisable activity book divided into seven colourful and fully illustrated chapters and packed full of interactive exercises, practical tips and notes from Fearne herself that give children the tools to understand and articulate their emotions. The journal begins with an introduction from Fearne and includes stickers so that book can be personalised.
This is the perfect toolkit for children looking to explore their emotions and build confidence in communicating their feelings. This big book of activities will help children learn about their different moods and how they make their mind and body feel, with lots of space to write, draw, learn, create and have fun along the way! Aged 7-12
---
Perfectly imperfect stories – Meet 29 icons, from pop stars to sporting heroes, and discover how they overcame a range of mental health issues, from anorexia to depression, to live inspiring lives. At a time when kids' mental health is under more pressure than ever, this book celebrates the message that it's ok not to be ok. Aged 9+
---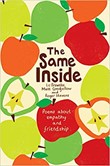 The same inside – The Same Inside is a sweet and thoughtful collection of poems about friendship, empathy and respect by three of the nation's best-loved poets, Liz Brownlee, Matt Goodfellow and Roger Stevens.
These fifty poems deal sensitively with feelings, empathy, respect, courtesy, bullying, disability and responsibility. They are the perfect springboard to start conversations. Aged 9-13
---
Open your mind learn to deal with the big stuff in life – Full of honest and practical advice from Gemma Cairney and a whole host of trained professionals and real people, Open Your Mind is the best friend of a book everyone needs. From stress, trauma and anxiety, to your place in the world and everything in between.
Includes chapters on: Anxiety, Depression, Addiction, Politics, Our Natural World, Feminism, Money, And so much more!
Gemma Cairney is an important advocate for young people. Her personal insight and time as Radio 1's resident agony aunt on The Surgery makes her perfectly placed to offer advice to young people questioning what life's all about. Discover even more with Open Your Heart: Learn to Love Your Life and Love Yourself. aged 11-18
---
Night shift – With stunning black and white illustration and deceptively simple text, author and illustrator Debi Gliori examines how depression affects one's whole outlook upon life and shows that there can be an escape – it may not be easy to find, but it is there. Drawn from Debi's own experiences and with a moving testimony at the end of the book explaining how depression has affected her and how she continues to cope, Debi hopes that by sharing her own experience she can help others who suffer from depression and find that subtle shift that will show the way out.
'I have used dragons to represent depression. This is partly because of their legendary ability to turn a once fertile realm into a blackened, smoking ruin and partly because popular mythology shows them as monstrous opponents with a tendency to pick fights with smaller creatures. I'm not particularly brave or resourceful, and after so many years battling my beasts, I have to admit to a certain weariness, but I will arm-wrestle dragons for eternity if it means that I can help anyone going through a similar struggle.' Aged 11-18
---
Generation hope – Generation Hope: Youth Can Make a Difference introduces 20 global issues and many change-makers, like Greta Thunberg, who are doing something to make the world a better place.
Generation Hope looks at everything from climate change and plastic pollution to radical kindness and animal welfare. Facts, stats and practical tips for taking action are laid out in a clear graphic style, with issues explained in a bite-sized, easy-to-read way. Issues covered – ecopreneurs, gender equality and children's rights, nature and wildlife conservation, hunger and homelessness, eco-anxiety and mental health & recycling and reuse aged 11-18
---
Open your heart – Full of honest and practical advice from Gemma Cairney and a whole host of trained professionals and real people, Open Your Heart is a best friend in a book. From heartbreak and heartache to body image and everything in between, this book will help you learn to love your body, your friends and your family, and tell you what to do if things go wrong.
Includes chapters on:
Family, Friendship, Bullying, Love, Heartbreak, Death, grief and loss, Periods, Body image, Exercise, Food, Sex, Gender and sexuality, Sexual health and more! Aged 11-18
---
It's ok not to be ok – It's OK not to be OK acknowledges and explores common mental health disorders such as depression, eating disorders and anxiety. Get the low down on these issues, why they happen and discover ways of looking after mental health in our fast-moving world.
This book will help children and young people develop the resilience to cope with whatever life throws at them and grow into well-rounded, healthy adults. Aged 11-18